From a very young age I just loved to draw! I was rarely without a pen or penicl in my hand and always overjoyed to get a new supply of drawing paper. No surprise then when I went on to study art full time at Gray's School of Art in Aberdeen, culminating in a Degree in Textiles and Surface Decoration. My first job in the outside world was at a local knitwear firm called Glen Gordon, where I really developed my love of design and colour plus an understanding of how the real business world works. Fast forward a few years and I am still based in Aberdeen, working in the oil and gas industry in a marketing role and enjoying creating my artworks in my own time.
I indulge in all sorts of creative endeavours - creating colourful textiles, crafts, jewellery and mosaics, with a special interest in producing animal portraits.
Animal portraits
When it comes to my animal portraits, my style is realistic but with a real sense of the animal concerned's character. I want you to be able to look at the artwork and see not just a faithful reproduction of the creature concerned but also on closer inspection, the pencil and brush strokes, the many layers and the sometimes surprising colours I have used. See my gallery for examples. As to why I enjoy doing the animal portraits so much - it's quite simple; I understand only too well how much our furry friends mean to us and I treat every commission as if I were painting a much loved pet of my own.
Mosaic stable name plates
My fun, colourful, sparkly mosaic stable name plates - someone asked what made me think of taking mosaic art into stables. It was actually on one of the many nights I was at the stables lending a hand following a rather nasty accident to an equine friend (who is now fully recovered) that the thought occurred to me that neither he nor his equine pal had their names on their stable doors and the idea was born! Not only would I get them name plates but I'd make them their very own little works of art - their sparkly, colourful mosaic name plates! I love the splash of colour and sparkle they provide and am now on a mission to get them scattered across the globe. I've reached Aberdeen, London and even Houston so far...... so if you are wondering if I ship overseas the answer is yes!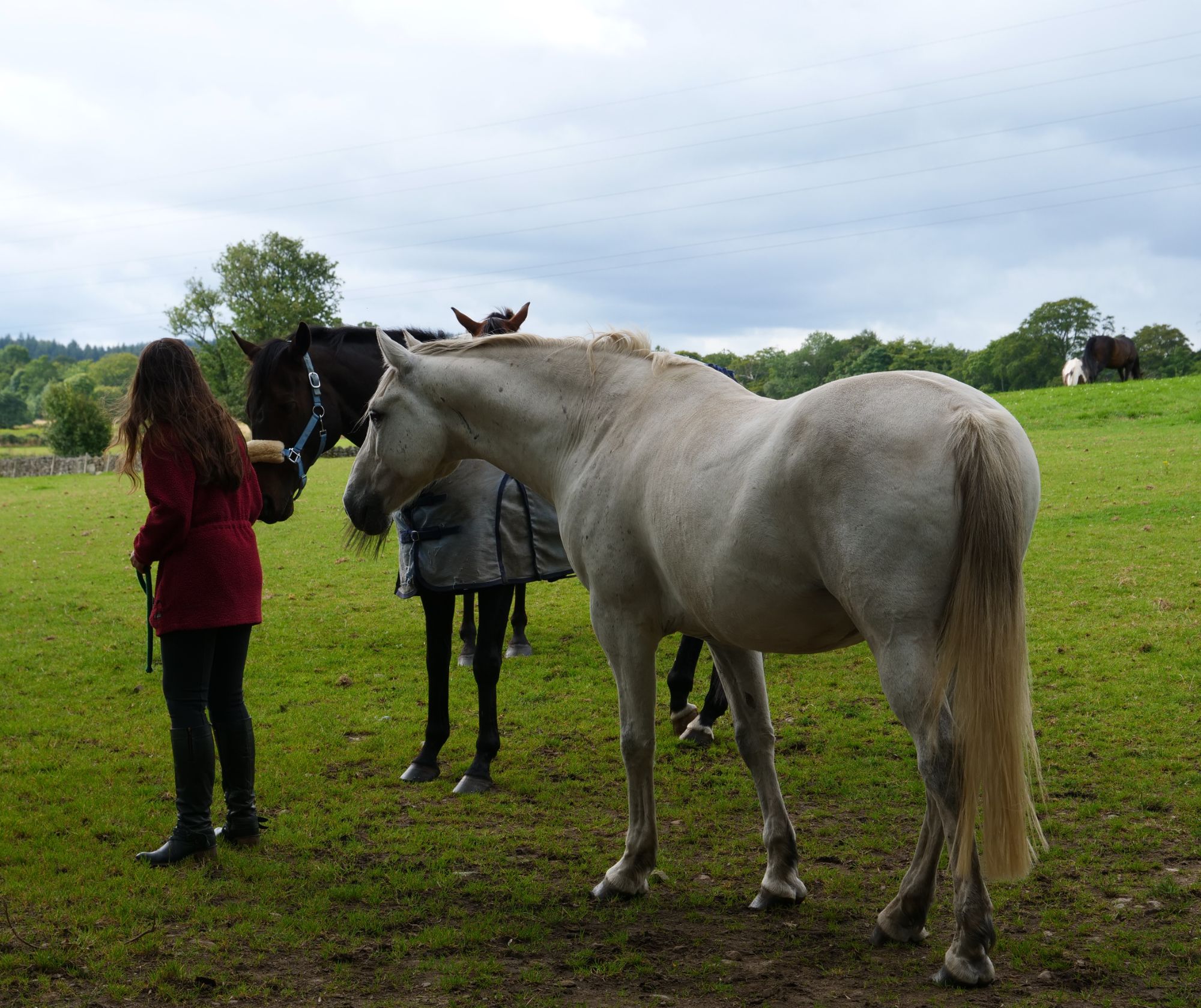 I spend a lot of my spare time in the company of animals, especially horses. I understand their quirky natures, their power and strength and also their fragility. Above all, I understand the special bond that exists between them and their owners and the calming influence they can bring to us humans. There's something about a whicker of recognition or the feel of a velvety muzzle on your face (or in my case - more often it's a head butt, a shove and messy slobbers over my clothing) to make you forget all about other "stuff" that you may have going on. There is a famous John Lubbock quote that sums it up perfectly, "There is nothing as good for the inside of a man than the outside of a horse."
Cats and dogs are also a source of great joy to me. Whilst I don't have a pet of my own at the moment, I am so very fortunate to have friends and neighbours with pets I can make a huge fuss of and enjoy being around!
I'm also becoming increasingly interested in wildlife and its preservation - especially big cats, and hope to develop a series of artwork on this theme. I have one such piece - a tiger - underway at the moment.